The US Department of Veterans Affairs (VA) offers many financial benefits to military veterans. One of the more significant benefits is a VA mortgage loan.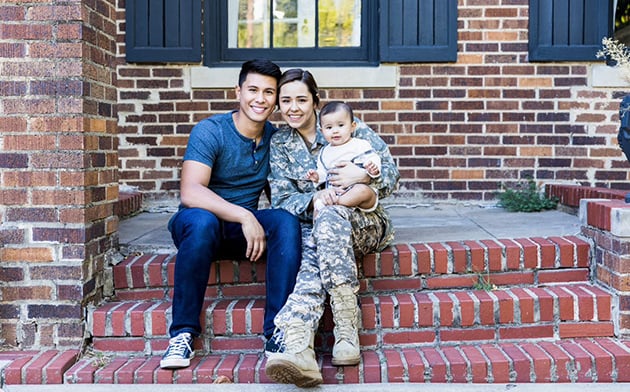 How does a VA loan work? And how is it different from a conventional mortgage? At its base level, a VA loan allows veterans and their families to purchase a home at a lower interest rate without a down payment. But there's much more to it. Below are the ins and outs of this specialized loan.
"The VA loan is one of the more complex loans with a lot of great benefits," said Mike Lavender, Director of SELCO Mortgage. "This is a great product for veterans."
Upsides
A VA loan has several advantages over a conventional mortgage:
100% financing to qualifying home buyers. Whereas conventional loans require at least 3% of the sales price as a down payment, you don't need any money down for a VA loan. This can be especially beneficial for first-time home buyers.
No private mortgage insurance (PMI). Other loans taken out with minimal or no down payment require this monthly fee until the buyer owns at least 20 percent equity in the home.
Lower interest rates. Interest rates have been bumped up in 2022 to fight inflation, but VA rates tend to be lower. See current rates at selco.org.
Relaxed credit standards. VA loans don't require a minimum credit score like conventional loans (620, and 740 for a good rate). However, lenders generally set their own requirements, usually between 580 and 600.
Want to learn more ways that veterans can save on housing costs? Check out this comprehensive guide put together by Reviews.com.
Downsides
The only real downside is the upfront funding fee (covered in more detail below), which you won't recover. You'll also want to ask yourself if buying a home is currently in the cards. The final point above about relaxed credit standards is a great barometer. If you're hovering at or below a lender's minimum required credit score, you most likely aren't a good candidate to take on a mortgage. On top of your monthly payments, you'll need to factor in property taxes, homeowners insurance, utilities, general upkeep, and more. Owning a home is a big commitment.
"All the shininess of the zero down payment and low interest rate doesn't necessarily mean it's the right time for you to buy a house," Lavender said. "The last thing we'd want to do is set you up to fail by placing the burden of buying a house onto you."
How do I qualify?
To qualify, you'll need a Certificate of Eligibility (COE), which proves you meet the eligibility requirements for a VA loan. (Your lender will obtain a COE for you.) To be eligible, you must meet one of the following service criteria:
181 days of service during peacetime
90 days of service during wartime
6 years of service in the Reserves or National Guard
Surviving spouses of service members who have died while in the line of duty may also be eligible.
Keep in mind, a valid COE doesn't guarantee you'll receive a VA loan. You may be disqualified for other reasons, including having had a VA loan-funded home go into foreclosure or trying to purchase a property that doesn't meet federal requirements for a VA loan. On the latter point, home appraisals for VA loans are typically more stringent.
How much can I borrow?
As much as you need. Starting in 2020, strict maximum loan limits under the no-money-down umbrella were lifted. Under the new rule, qualifying veterans can now purchase a home in more expensive areas without any down payment. For veterans who have one or more VA loans open or have previously defaulted on a VA loan, the loan limit still applies. If you're in this category, you can take out a loan that exceeds that limit, but you're required to make a down payment equal to 25% of the difference between the county limit (currently $510,400) and the actual loan amount with no money down. For example, if you want to buy a home for $610,400, you'd need to put $25,000 down.
There's a catch, right?
No down payment. Low interest rates. No PMI. Something's got to give, right? Unique to VA loans is the funding fee—which is in addition to normal closing costs. This fee, created to help offset the taxpayer's burden for covering VA loans, varies by loan size and increases with each subsequent loan you take out. For first-time home buyers, the funding fee is 2.3% of the loan—either paid upfront or rolled into your loan. All subsequent loans carry a fee of 3.6% of the loan amount. However, if you're receiving VA compensation for a service-connected disability or other reason, you'd be exempt from paying the fee.
VA loans are attractive for veterans looking to buy their first home or refinance at a lower rate, as well as those with established careers who are in the market for a more expensive house. Contact an experienced SELCO Mortgage loan officer to see if a VA or other mortgage loan is right for you.