Peer-to-peer (P2P) payment systems have dramatically changed the way we handle our money. It's so easy to send money with just a few taps on your phone. But be sure to keep your money safe by following the tips outlined in this article.
First popularized by PayPal, the world of P2P payment systems has exploded. A NerdWallet survey found that roughly 80% of Americans use mobile payment apps to either quickly pay friends and family or pay merchants online and at the register.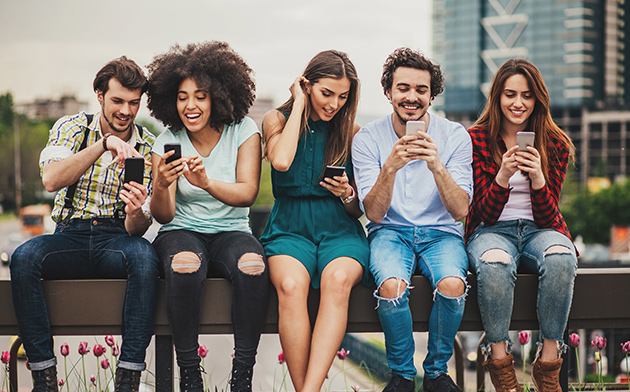 SELCO members can easily attach their bank account or a card to apps like the aforementioned Venmo and PayPal, as well as Apple Pay Cash, Samsung Pay, Google Pay, and Cash App to quickly and safely send money.
How do P2P payments work?
Say you're dining out with friends and the restaurant only allows one credit card to be used per table. You offer to cover the tab, and in turn your friends can instantly transfer their portion directly to you.

By using a P2P payment app to send you money, the transaction is completed in a matter of seconds. Once you receive the funds, you can leave them in your P2P account to use next time or move the money out of the system and into your linked account (typically a checking account).
How long do money transfers take?
Transfers between you and your friends are instantaneous, with funds available right away. Transferring funds to your financial institution takes a little longer, typically 1-3 business days to clear. If you really need that transfer to clear your account immediately (like if you need to pay rent or a utility bill and you split the bill with your roommate), most providers allow you to pay a small fee to make that happen.
Are there other fees associated with transfers?
Generally, P2P systems allow you to make a payment from a debit card, linked checking account or directly into the P2P account at no cost. However, several providers may take a small percentage of any payment made with a credit card. (Others, such as Apple Pay, don't allow credit-card payments.) Also, if you want to transfer funds immediately into your checking account, you'll usually have to pay.
Are P2P payments safe?
P2P systems are careful to encrypt your financial information and to use security measures for protecting your funds. However, as with all security measures, they aren't foolproof. Many P2P systems have been targeted by hackers and scammers. You can keep your money safe and still enjoy the convenience of P2P apps with these safety tips:
Use two-factor authentication and a PIN before completing each transaction.
Set up notifications in your phone's settings to be alerted about every transaction.
Never hand your phone to strangers.
Only send money to people you know and trust.
Triple-check your recipient's information before you send a payment—a mistyped email address or phone number could send your money to the wrong person.
Carefully read the terms and conditions of a P2P service before using.
If something goes wrong with a P2P payment, who is responsible?
Unfortunately, victims of P2P scams and accidental payments are most likely on their own. Most P2P services will offer their assistance to law enforcement agencies and notify users if they've been scammed, but that's usually the extent of their fraud protection.

If you use your P2P payment service for business-related transfers, fraud protection is further limited. P2P services were created to be a means of transferring funds from friend to friend; most services clearly state in their policies that their platforms should not be used in business transactions. Many consumers, though, choose to ignore these warnings and use a P2P service to pay for goods they bought on Craigslist, to sell a used item, or even to accept funds for a service they provided.

If these rules are disregarded, the service will likely offer no fraud protection or assistance in reclaiming lost funds. Many of them will not even honor a business transaction at all. Therefore, it's wise to exercise caution when transferring money online or by app.
If you opt for the P2P payment route, it's best to only use it among friends and other people you know and trust. When used responsibly, P2P payment transfers can be a super-convenient way for friends to share expenses or pay back borrowed funds.