Are your winter and summer energy bills going through the roof? Maybe it's time to upgrade to solar panels.
Solar panels have become increasingly popular since a tax credit was instituted in 2019. Solar energy can conceivably save homeowners up to nearly $100,000 over the life of the system.
But are solar panels worth it? That all depends on how long you plan to stay in your home. The average cost to install solar panels in the United States is $17,000 to $24,000 with the federal tax incentives included. Stay in your house long enough, and the savings alone likely will offset that expense. Along the way, you can also take advantage of additional incentives and rebates that will help maximize an investment in solar power. (And come in handy when deciding how to pay for it all.)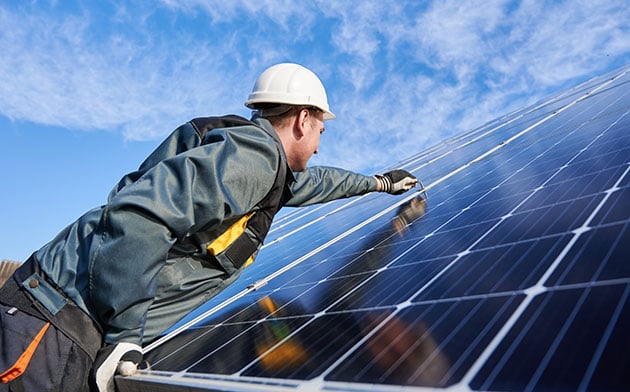 How to pay for it
Cash. If you can afford it, paying your panels upfront will bring you the biggest return on your investment after startup fees.
Lease agreement. Leasing solar panels is easy, and the leasing company will install the panels for you. However, the leasing company will collect the tax credit and any other incentives available in your state. You may end up spending more because lease payments rise over the years and after the lease is over, you will be charged full price for the panels if you decide to keep them. Additionally, if you plan to sell your house, leasing solar panels is very unattractive to potential homebuyers.
Solar Loan. You can take out a loan created just for the purpose of funding your new solar panels. Paying with cash aside, taking out a personal loan has proven to be the best way to pay for solar panels.
Home Equity Loan or Home Equity Line of Credit (HELOC). A SELCO HELOC is one of the most responsible ways to finance your solar panels, and our agents can help you find the perfect rate for such a project. Even in states like Oregon that receive less sunshine, there are several benefits to going solar—while you're paying off the HELOC with a low interest rate, you'll simultaneously enjoy energy savings as the value of your home increases annually.
Questions to ask before you take the plunge
Which way does my roof slant? In the United States, south-facing roofs are the best recipients for solar energy. West and east are the next best, with north being the least desirable.
How much sunlight does my roof get each day? Sunlight needs to hit your roof for at least five hours a day, so make sure there isn't anything causing shade on your roof.
How large is my roof? An average residential solar system will need 20 panels to receive enough sunlight, which comes to about 500 square feet of roof space.
What type of roofing do I have? The least expensive and easiest solar panel installations work on roofs made of asphalt shingles or corrugated metal.
How old is my roof? Don't add panels to a roof that will need to be replaced in the next decade or so. Similarly, it's usually not worth installing panels if you plan on moving out of your home within 10 years.
How expensive is my electricity? The higher your local electricity rates are, the more cost-effective solar panels will be. You can determine the rate you pay per kilowatt hour by looking at your most recent energy bill.
Are there any government incentives in my state? You can check for any available state credits on the database of state incentives for renewables and efficiency.
It's up to you to make the decision to go solar and increase your home's efficiency. If you can afford to pay for the panels or take out a HELOC or home equity loan to help fund the purchase, and all other factors are in your favor, you may want to consider getting solar panels. Try this solar calculator to see how much you could save, and consider switching to solar panels now before the federal tax credit expires in 2024. It may just be worth the expense over the long haul.