A checking account is no longer just a place to house and access your money.
In the past, checking accounts were mostly used as a pass-through system, pooling your money and then dispersing it via checks or cash withdrawals. But like so many other banking products and services, checking accounts have evolved to fit modern times and needs.
You can think of SELCO's Select Checking account as a personal financial hub. Use it to pay bills conventionally or through electronic bill pay, make direct payments through debit cards, track your spending, access secure digital payment tools like Apple Pay and Venmo, and so much more.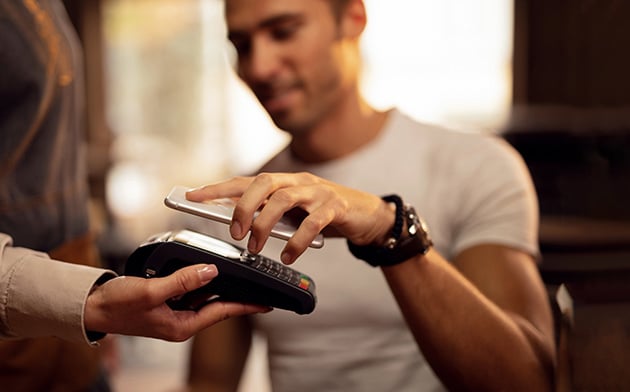 "SELCO's Select Checking comes with far more benefits than a traditional checking account," said Tiffany Washington, SELCO's Executive Vice President of Finance & Operations. "Using a checking account as a dashboard to your entire financial picture can take the mystery out of your personal finance."
Healthy financial habits, simplified life
Used to its full potential, the modern checking account can be a cornerstone of healthy financial habits and help simplify your life.
"You can really think of your checking account as your go-to account for daily life activities," Washington said.
So, how can a checking account help you become a more efficient steward of your money? SELCO does this by:
Reducing fees dramatically. With no monthly charges or minimum balance requirements, SELCO gives you freedom from worry with a truly free checking account.
Granting easy access to your account. With its customized approach to checking, SELCO offers access to your account in a way that is most comfortable for you. That includes digital banking and an online scheduling tool to set up remote consultations to fit your schedule. This is in addition to SELCO's network of 15 branches throughout Oregon, of which you can put in your pocket with the free mobile app. Our app is secure, with fingerprint or face recognition capability on enabled devices.
Offering one of the most extensive networks of ATMs anywhere. With free access to your cash at more than 5,000 credit unions and nearly 30,000 ATMs nationwide through the CO-OP Shared Branching network, withdrawing cash is never a hassle, no matter where you are in the US.
The convenience of SELCO's Visa® debit card. Accepted wherever Visa is accepted, SELCO's debit card can be used just about anywhere.
Syncing with major providers of mobile wallets. SELCO debit cards are compatible with mobile wallets, such as Apple Pay, Google Pay, and Samsung Pay. With these, SELCO checking account members have the power to make purchases with a simple touch of a smartphone. And mobile wallets are more secure than using a debit card, putting your mind at ease with every transaction.
Option to earn interest on your balance. While your money just sits in most checking accounts, SELCO's Select Checking has the potential to earn interest. If you select this feature, a minimum balance is required to avoid a fee, but the higher your balance, the more you earn.
Effortlessly depositing your paycheck. With direct deposit, your paycheck is electronically and instantly deposited into your account.
Convenience always at the forefront
SELCO's Select Checking account is made to be easy. Its tools are designed to be simple and user-friendly.
That convenience can serve a greater purpose.
"All of the tools in a SELCO checking account are offered to help members stay on top of their finances, which is important to maintaining financial health," Washington said. "More than that, those tools enable members to adjust to the more convenient and equally safe digital forms of payment when they are ready."
It's your money, after all, and you should be able to access it in the way that works best for you.