Many of us have been there: You stare at your old and tired tiled/carpeted floors and think, "I wonder if I could put in new hardwood floors."
Or maybe you're house hunting and find THE ONE, but it could use a serious upgrade inside and out. Again, can you make any of those improvements yourself? (Side note: Fall or winter can be great times to buy after the housing frenzy has died down.)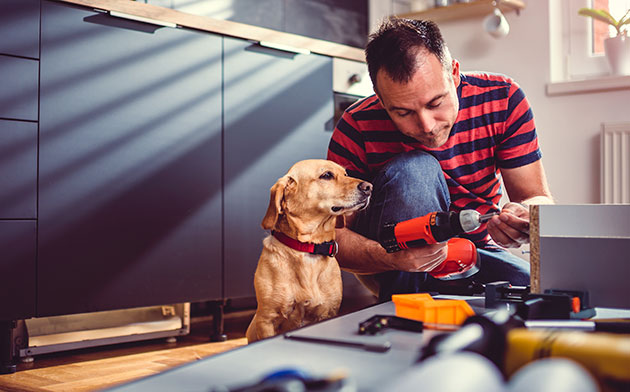 Once you've homed in on a project, ask yourself if you're better off doing it yourself or bringing in the pros. At the base level, you'll want to determine:
The complexity of the project.
Your skill level and how much time you can devote.
How much you're willing to spend.
If the job is too dangerous for you.
Below are a few examples of when it's likely best to tackle a project yourself, bring in the pros … or if it could go either way. Whatever option you go with, you might consider a SELCO Home Equity Line of Credit (HELOC) to help pay for the job.
When to do it yourself
With a little education—online how-to videos and DIY books are great resources—certain projects can be done pretty easily. You might even enjoy significant savings. Examples of relatively painless DIY jobs include:
Installing vinyl or linoleum flooring. Depending on your skill level (not to mention your patience), installing long-lasting sheet or tile vinyl and linoleum flooring is a cost-effective option.
Interior painting. Adding a couple fresh coats of paint can instantly breathe new life into your home's interior. The prep will be the most time-consuming part of the project.
Installing baseboards. Is your molding not doing it for you? It's easy to replace them with taller, thicker baseboards.
When to hire a pro
Sometimes, hiring a contractor is the only way to go, especially if the project requires a special permit or must comply with building code. It might be best not to try these at home:
Replacing a bathtub. Replacing/installing a tub in your wall (including the tub surround) and handling all the plumbing is considered a very difficult endeavor, best left to the professionals.
Installing windows. The biggest DIY roadblock here is when your original windows are not standard in size—additional framing and insulation work will be required.
Installing hardwood floors. There are plenty of instructional videos for installing hardwood floors. But the job requires a lot of precision, and mistakes can prove costly.
When either option works
After making your DIY vs. The Pros list, you still might be on the fence (no pun intended) about a few others. Maybe you have the skill but not the time. Perhaps, upon further review, you think, "yeah, I could do that." Here are a few of those either/or projects:
Demolition. Who doesn't like wielding a sledgehammer and just going to town? Before taking this stress-reliever for a spin, be sure to take necessary precautions.
Building a wood deck. If you're particularly handy, you can certainly build a deck, thus cutting costs while boosting the resale value of your home. Are you up for the task?
Hanging kitchen cabinets. If the cabinets come fully assembled, installing them doesn't carry a steep learning curve. But for efficiency and accuracy, go with a pro.
Deciding whether to do it yourself or trust a pro really comes down to time, money, quality of work, and your confidence. By balancing these factors, educating yourself, and doing the research, you'll be able to make wise choices and ultimately be satisfied with the finished product.