To buy or not to buy? That is the question facing many prospective homeowners in today's topsy-turvy housing market.
Buying a home at any point can feel intimidating. There's just so much to consider—finding a home that meets your needs, finding the right agent, finding the right mortgage professional, qualifying for a mortgage, signing so many documents that your hand cramps. And for the better part of the past two years, historically low interest rates resulted in more homebuyers than ever, competing for fewer homes, leading to higher prices and uncompromising sellers.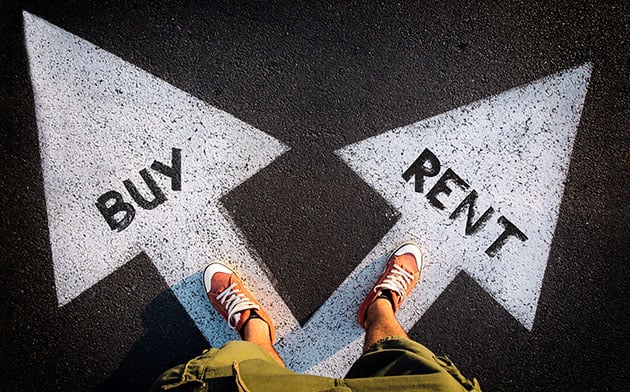 Despite the recent increases to mortgage rates, the national median price for single-family homes continues to rise. This has forced more buyers to flee from the market, which may eventually tip the scales away from sellers. But the idea of buying a home right now remains a huge challenge, to say the least.
Especially if you're trying it for the first time.
Fortunately, you're not alone. We've put together this guide for buying your first home, and the SELCO Mortgage team's loan officers (with over 200 years of cumulative experience!) are ready to help with any and all questions along the way.
"Ask yourself, 'Is this the right time to buy for me? Am I buying a home for the right reasons?'" said SELCO Mortgage Loan Officer Scott Hirschhorn. "Getting a mortgage to buy a home will most likely be the biggest borrowing experience of your life, so be absolutely sure you're ready."
Step 1: Make sure it's the right time
Before even entertaining the idea of buying a home, determine how much house you can actually afford without becoming "house poor."
Many first-time homebuyers fall into a trap of spending a huge portion of their income on homeownership. (This can be an unfortunate side effect of today's extreme seller's market, when bidding wars and the fear of missing out can drive prices up to—and above—a buyer's maximum planned budget.) If you reach too high, there often will be little or no money left over for repaying debts, contributing to retirement savings, or even making simple home improvements.
To put it another way, plan a budget, find out what you can truly afford—not the most expensive home you can purchase—and stick to it. Can you afford slightly more than your rent payment? Or if you're stretched a little thin, maybe a lower mortgage payment would make sense? By outlining a simple monthly budget—including your planned, unplanned, and new (no landlord means you now pay for repairs) expenses—you'll be able to see what monthly mortgage payment you can comfortably afford.
… which leads to step 2:
Step 2: Prepare your finances
This and the first step can be interchangeable. If your finances aren't in order, it's not the right time to buy a home. Here are a few ways to get prepared:
Save, save, save. For most first-time homebuyers, coming up with a 20% down payment to avoid private mortgage insurance (PMI) is unrealistic. If 20% isn't in the cards, you'll need to put down at least 3.5%—or, if you qualify for a Veterans Administration (VA) loan, no down payment is required. "The down payment is just a part of what you'll need to save for," said SELCO Mortgage Loan Officer Chris Erickson. "There are also closing costs, property taxes, and homeowners insurance—all of which can be rolled into your loan."
Shore up your credit. You can get a mortgage if your credit score is in the low 600s, but as with any loan type, with a higher score comes better rates and terms. Need to boost your score? Start as early as possible and consider a daily monitoring service to track your progress. (Pro tip: A simple way to build credit without taking on a lot of debt is to use a credit card for small purchases and pay off the entire balance each month.)
Round up required documents. You'll be asked to verify your finances when filling out a mortgage application. Create a "home folder" for paystubs, W-2's, bank statements, tax returns, etc., and bring it all with you when it's time to get your loan.
Step 3: Get preapproved
A mortgage preapproval not only is required, but it also gives you a clear idea of what your home buying budget looks like. To preapprove you for a mortgage, lenders will poke and prod every nook and cranny of your financial life. This is where all your prep work will have paid off. This process can be intimidating, but it's free. Here's what you'll need (if you're completing these steps in order, you've already got a head start):
Proof of assets. Can you cover the down payment and any needed reserves?
Proof of income. Can you make your monthly payments?
Good credit. The higher the credit score, the better chance at getting a loan with a lower interest rate.
Employment verification. A lender will typically get verbal or email confirmation from your employer that you're gainfully employed.
Other documentation. For instance, if you plan to use a financial gift from a relative toward your down payment, a gift letter will be required.
If your preapproval expires, you'll simply need to update some income and assets documents and verify that there haven't been additional financial changes before getting preapproved again. Avoid new credit, taking on new debts, or changing career paths—right up until you close on the home—as this changes your financial picture.
Pro tip: With mortgage rates on the rise, look out for lenders who provide a rate lock while you shop. Knowing that your rate won't go up during the lock period, even if market rates do, can help take some of the stress out of the homebuying experience.
Step 4: Find a good realtor
Beyond the extensive experience and friendly service, another advantage of working with a SELCO Mortgage Loan Officer is the reciprocal relationships they have with local real-estate agents. Each SELCO Loan Officer typically has a couple agents they know and trust. Recommendations from friends or family are also effective ways to find the right partner in your home search.
"In this market, where homes are getting listed and under contract within a few days, it's important to have an agent working for you," Hirschhorn said.
Now comes the fun part—finding your new home. Once you do, and your offer is accepted, lean on your loan officer again to learn how to seal the deal before breaking out the bubbly. (This would be a good time to make sure your signing hand is good and limber.)
Buying your first home is one of the most important decisions you'll ever make. But it doesn't have to consume you. By covering every base while basing your decision on your own needs and desires (and not market conditions), getting the keys to your first house can also be one of the most fulfilling things you'll ever do.