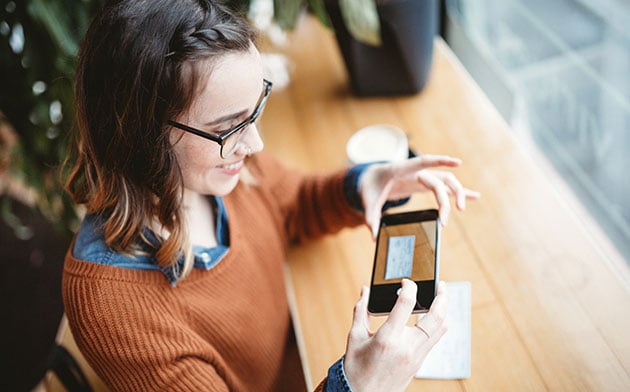 There's no need to squeeze a trip down to your local branch or ATM in your already busy schedule just to deposit a check. All it takes is a few minutes of your time and a smartphone or tablet.
What is mobile check deposit?
Just like it sounds, mobile deposit is a way to deposit a check into your SELCO account anytime, anywhere, using SELCO's mobile app.
Here's how you can quickly and easily deposit a check. And if you haven't already, registering for digital banking is simple.
The following are three benefits of using the mobile checking deposit feature:
Convenience. You're no longer bound by regular business hours, and you won't ever have to wait in lines at the ATM to deposit a check. Deposit a check at home, while traveling, and at any time of day. Cross that errand off your list!
Ease. We streamlined the process so that it only takes a few minutes to deposit your check. It's as simple as opening the mobile app, selecting "Deposit", taking a photo of the front and back of the check, and choosing which account to deposit the check into. For an optimal image, watch our QuickTips video below or follow these guidelines:



Hold the camera parallel to the check and frame it within the borders on the phone.
Make sure the background is a dark, consistent color without patterns or obvious texture. Marble or wood-grain tabletops have been known to cause issues. If the table surface is not a contrasting color, place a dark or contrasting sheet of paper below the check.
Turn off the flash on your camera.
Lay the check as flat as possible with no folds.



Security. With mobile deposit, check images are not stored on your phone after you take the photo within the app. Instead, they're encrypted and stored within SELCO's database, just like they would if you deposited a check at a branch.
As you start to feel comfortable making mobile deposits, there are a few things to keep in mind to ensure the best experience.
Endorse it. Be sure to endorse the back of the check with your signature and "For Mobile Deposit at SELCO."
Store it. Keep your check stored in a safe location for up to 45 days in case you need to provide another image.
Notifications. We will let you know the status of your deposit every step of the way with notifications.
Check out this video for tips on how to prevent your checks from being held for review.
*To review mobile check deposit terms and conditions as well as any limitations, please refer to the Mobile Deposit Agreement on selco.org.
As you can see, depositing a check from the mobile app is simple, safe, and user-friendly. The same can be said about the rest of SELCO's digital tools. If you haven't already, get started by downloading SELCO's mobile app: