Are you on the fence deciding whether to sell your home?
Depending on your station in life, there may not be a better time to sell. For the foreseeable future, sellers will remain in the driver's seat as housing inventory remains historically low, which in turn is driving up prices.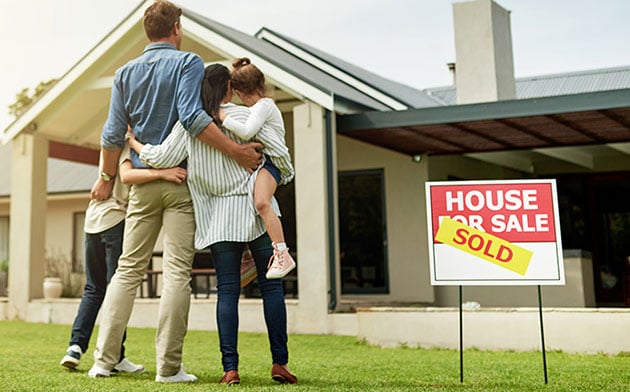 Before diving in, though, make sure your financial home is sound. After you sell your home, you'll need another place to live. So meet with your lender to get preapproved for a new mortgage loan. There's a good chance you'll make a profit from the sale of your home, but don't be tempted to use all your cash to pay off credit. Not only will you need a down payment for your new home, but there are also extra costs like moving and setting up new utilities. Also, wait until after you close on your new home before opening new credit. Applying for a credit card or buying a new car during the lending process can impact your ability to qualify for a new mortgage. Still thinking about selling? Here are some simple ways to make selling your home a more seamless process.
Choose the right agent
Do your research before hiring a realtor. Your broker should have an excellent track record that includes recent sales—especially on homes similar to the one you're looking to sell—and being updated on market trends. Be sure to also ask for references and credentials.
Make the interior sparkle
Don't skimp on this one. Bring more light into your home by replacing dim bulbs with high-wattage ones, scrubbing the windows, and removing the drapes. You surely don't want the light to focus on your clutter, either, so hide or get rid of your personal effects before showing the home. Consider renting a mini-storage unit to store your extra stuff, hold a yard sale to sell it, or donate it all. You want visitors to envision themselves living in the home.
It's OK to do some light remodeling, as well, but don't go overboard. A touch-up paint job, new light fixtures, door handles, and rugs can go a long way. Entice visitors to check out every room by placing a piece of artwork, a vase of fresh flowers, or an interesting light fixture near the end of a hallway or at the top of the stairs. Finally, don't forget the kitchen. You might want to consider a fresh coat of paint, new cabinets, and more. A buyer can easily shave $10,000 off the asking price by claiming your kitchen is outdated.
Let the exterior sell itself
Attract buyers by adding curb appeal. Aside from the pictures online or in a flyer, the first thing buyers will see is the outside as they drive by or approach your house. Clean (or replace) your gutters and downspouts and remove debris from your roof. Pressure wash—or, at the least, spray down—your driveway and sidewalk. Mow the lawn and pull the weeds.
If you're feeling extra motivated, splurge on a striking patio set, trim your shrubs, and plant some flowers along your walkway. Consider replacing old hardware such as light fixtures, doorknobs, and even your mailbox.
Market the home yourself
Be your own best agent. Let everyone and their neighbor know you're selling your home and be sure to speak in glowing terms about your house to anyone who asks for details.
Hide your pets
Not everyone is an animal lover. If you've got some furry critters at home, hide the evidence. If you're hosting an open house, send your pets to a friend's place for the day.
Use extra rooms
While you're decluttering the rest of your home, this is also a good time to clear out unused stuff in unused rooms. Make an empty room more attractive and useful—convert it to a guest room, an exercise nook, or even a hobby room.
Have professional photos taken
If your realtor has a trusted photographer, take full advantage of it. If not, consider hiring one on your own. Today's smartphones take nice pictures, but high-quality photos posted online taken by a professional can really help get homebuyers through your door. (Don't forget to park your cars across the street or around the corner.) Aerial photography via drones is even becoming more commonplace.
Every little bit counts when it comes to selling your home. With a little elbow grease here, a little spruce there, and a wise approach, you likely won't be a seller for long. Ready to sell now or have any questions? Call SELCO Mortgage at 800-445-4483, option 1, 1. We'll be happy to help.