Now's the time to take advantage of our mobile and online banking tools.
SELCO offers numerous user-friendly, one-stop-shop tools for securely managing your accounts without leaving the house. In fact, our online and mobile resources are like a virtual branch—you can do most everything online that you're accustomed to at a branch. It's more important than ever to take advantage of our comprehensive suite of digital tools.
Online banking
Think of SELCO Online Banking as a 24/7 hub for your accounts. Located on selco.org, this tool offers myriad ways to manage your funds every day (even multiple times a day). But first, you'll need to enroll. (It's free—here's how.) When you sign up, you'll be asked to create a personalized user ID that can be used for online and mobile banking concurrently.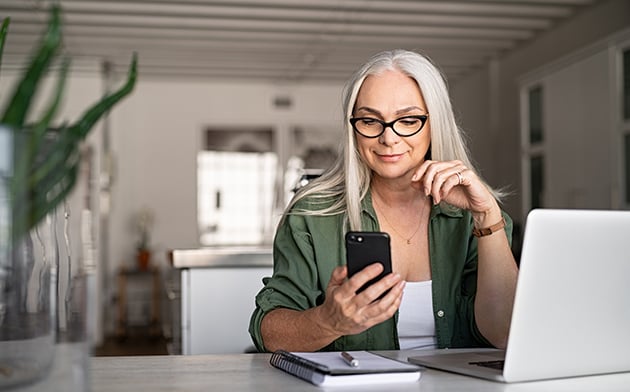 Once you're in, you'll have several tools at your disposal. Here's a sneak peek at what you can do:
As you can see, there's a lot you can do in online banking. Sign up today and discover a whole world of self-service banking features.
Mobile banking app
The SELCO Mobile Banking app serves as a constant companion to SELCO Online Banking—it can also be used on its own. Our free app offers many of the same capabilities as online banking and was recently enhanced with more exciting features. Download the app at the App Store (for iOS devices) or Google Play (for Android devices). And while you're at it, consider adding your SELCO credit or debit card to your mobile wallet for contactless payments (learn how here).
And now for some of the app's cool features:
Download the SELCO Mobile Banking app today for yet another resource for managing your finances.
To learn more about online and mobile banking, visit SELCO's FAQ page.
Apply for loans
As noted above, members can safely and securely apply for loans through online and mobile banking. As an alternative, you can visit selco.org to apply for the following:
Schedule appointments online
Our online scheduling tool provides an easy way to set up appointments by phone to discuss your loans, investment portfolios, and insurance plans. From all the pages below, simply click on the "Schedule" link to get started.
To set up an appointment with a Loan Officer, visit the following selco.org pages:
To meet with an Investment Advisor, there are multiple entry points on selco.org. Here are a few:
To schedule a meeting with an Insurance Specialist, visit these pages:
It's important that you stay connected with SELCO. And the way to do that is by making use of our array of digital resources. Wherever you are, SELCO will be with you every step of the way.