Now's the time to take advantage of SELCO Digital Banking.
SELCO offers numerous user-friendly, one-stop-shop tools for securely managing your accounts without leaving the house. In fact, our online and mobile resources are like a virtual branch—you can do most everything online that you're accustomed to at a branch. It's more important than ever to take advantage of our comprehensive suite of digital tools.
Digital banking
Think of digital banking as a 24/7 hub for your accounts. Located on selco.org and as a mobile app, this tool offers myriad ways to manage your funds every day (even multiple times a day). But first, you'll need to enroll. (It's free—here's how.) When you sign up, you'll be asked to create a personalized username that can be used across the online and mobile platforms.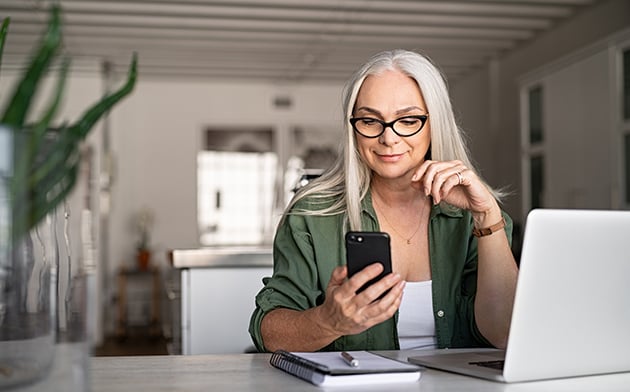 Once you're in, you'll have several tools at your disposal. Here's a sneak peek at what you can do in the desktop and mobile versions of digital banking:
Check all of your SELCO accounts.
Pay your bills & make automatic loan payments.
Deposit checks using your device's camera (only on the app).
View pending transactions.
Transfer funds between your accounts or institutions, or to another SELCO member.
Set alerts to monitor account activity.
Request skip payments on eligible SELCO consumer loans, Visa® cards, or lines of credit.
Open new accounts and apply for loans. (SELCO will fill in your basic information for you.)
Receive paperless statements.
Get insurance quotes.
Send secure messages to SELCO's Service Center.
Fingerprint or face recognition for signing into the app from enabled devices.
Quick Balance widget for a snapshot of account balances and transaction history without logging into the app.
Multi-account access, where you can toggle between accounts without logging out of and into each one.
As you can see, there's a lot you can do in digital banking. Sign up today and discover a whole world of self-service banking features.
Apply for loans
As noted above, members can safely and securely apply for loans through digital banking. As an alternative, you can visit selco.org to apply for the following:
Personal loans. Even if you aren't a SELCO member, you can apply from here.
Home loans. Before applying, make sure all borrowers gather their Social Security numbers; contact and employment information; and income, asset, and liability estimates.
Business loans. By applying online, you'll receive a link to a secure upload portal for sharing confidential documents.
Schedule appointments online
Our online scheduling tool provides an easy way to set up appointments by phone to discuss your loans, investment portfolios, and insurance plans. From all the pages below, simply click on the "Schedule" link to get started.
To set up an appointment with a Loan Officer, visit the following selco.org pages:
To meet with an Investment Advisor, there are multiple entry points on selco.org. Here are a few:
To schedule a meeting with an Insurance Specialist, visit these pages:
It's important that you stay connected with SELCO. And the way to do that is by making use of our array of digital resources. Wherever you are, SELCO will be with you every step of the way.