Not exactly a news flash, but online shopping has been displacing brick-and-mortar retailers for years.
In 2018, an estimated 1.8 billion people made purchases on the internet to the tune of $2.8 trillion in e-retail sales. The latter figure is projected to swell to $4.8 trillion by 2021 as retailers continue to shift resources to e-commerce and people become even more comfortable shopping from their computers or phones. But just as we now have near infinite access to merchants, merchants now have more opportunities to promote free-trial offers to us.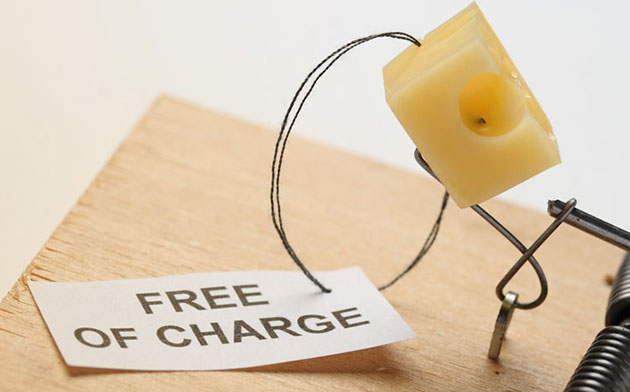 With so much purchasing power at our fingertips, we can sample practically anything for a short period of time before deciding whether to buy. And why wouldn't we? Trying before buying is smart shopping. Plus, who doesn't love free?
Unfortunately, sometimes "free" isn't all that free, which can come as a real shock if you find a charge on your account. But it's important not to confuse being caught unaware with fraud. If you provided your credit card number, enrolled in the trial, and the trial-period deadline has passed, there may be little you can do to get your money back.
So, before taking advantage of free offers, make sure you know what you're signing up for, what resources are at your disposal, and what steps to take to keep surprises from appearing on your statements.
Do your homework
The first step is to see what others are saying—good and bad—about the company offering the trial. "Google is a great place to start," says Sena Gould, SELCO's Operations Support Manager. "Do a little investigating into consumer reviews and feedback. When people aren't happy, they vocalize it."
Complaints from other customers can clue you in on potential concerns and what to look for in the tiny type. Or they may convince you to stay away completely. To be sure you're reading authentic feedback, check out third-party resources like the Better Business Bureau and Consumer Reports.
Read the fine print - twice
If you're considering taking advantage of a free trial, read the terms and conditions in the fine print so you know what you're signing up for. Companies are required by law to clearly and prominently disclose what you're agreeing to when you sign up. When does the trial period end? Are you authorizing recurring payments in the future? How will your personal information be used? If you can't find the terms and conditions, or they're difficult to understand, walk away.
Save all correspondence
Once you agree to the offer's terms and conditions, the clock starts ticking. From that point on, track everything. Save all emails, printed terms and conditions, and any materials sent through the mail—and take note of the dates these materials were sent and received. You may need this information if you decide to make a return or discontinue a trial.
Mark your calendar (in bright colors if needed)
Whether you create an alert on your smartphone or write a color-coded warning in all caps on a wall calendar, make sure you know when the trial period begins and ends. (Hint: Trials typically begin as soon as you sign up, not when the products are delivered or received.)
Take action quickly
If you need to contact the company, do so right away. The free-trial clock is ticking, remember. And anything you return should be sent via certified mail. That way, there can be no disputing when you put the package in the mail and when it arrived.
Want to learn more? Check out your rights as a consumer by researching the Unsubscribe Act and Restore Online Shopper's Confidence Act. The Federal Trade Commission is another wealth of information and your go-to for filing a complaint if a trial offer doesn't seem legit.
Free trials can be a great way to help make purchasing decisions. First knowing what to expect, and what actions to take before and after signing up, will ensure you're not making a purchase before you're ready.