Small steps and helpful tools—like the right savings account (they're not all made equal)—can help you get ahead.
For those closer to the start of their financial journey, planning for the future can seem daunting, or maybe even unnecessary. But wherever you are in life, it's never a bad idea to take stock of your finances with an eye toward what's to come. More likely than not, you already have a few of the financial tools at your disposal to set—and keep—you on track for success later on.
Here are six small steps you can take now (that you'll thank us for later).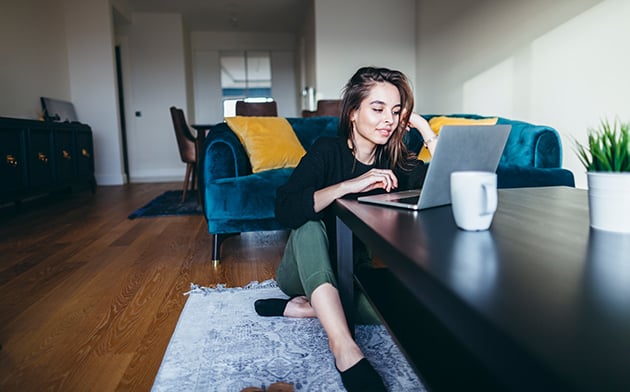 Make your money grow with you
Even if you already have a checking account, a savings account is an easy way to start allocating money toward your financial goals (and let your money do the work for you). The more you save, the more you earn. Keep an eye out for savings accounts that won't charge you any fees and offer free digital tools like SELCO's digital banking for managing your accounts on the go.
Pay down debt
Do you carry a credit card balance, have an auto loan, or are saddled with student loans? A great way to prepare for your future is to pay down debt—ideally, more than the minimum payments, if you can (even $20 more than the minimum payment makes a difference). To set automatic bill payments each month, try out Bill Pay in digital banking for effortless monthly payments. If you have one or more credit cards with a high interest rate, consider loan consolidation to a low interest credit card with no balance transfer fees. Or maybe give the debt snowball or debt avalanche a try.
Keep tabs on your credit report
Did you know you can access your credit score and report within minutes, for free, in digital banking? Make use of these free resources without damaging your credit score, and check your credit report for anything you don't recognize.
Create a monthly budget and keep it up to date
With a budget, you can allocate where you want your money to go, set financial goals, and track your spending. It's important to know where your money is, and there are lots of (free) tools online to help you start your budget (for instance, within SELCO Digital Banking or from the personal finance app Mint). Whichever method you choose (even if it's tracking spending in a spreadsheet or a notebook), the best time to start budgeting is now.
Start your emergency fund
If we've learned anything from the past couple years, it's to expect the unexpected. If an emergency fund wasn't already on your list of financial goals, add it. Since you may be just starting your emergency fund, don't feel pressured to go overboard on allocating hundreds (or thousands) each month right away. Put in as much as you can each month and over time, you'll watch that fund grow. It may even be helpful to set up a separate savings account, so you're not tempted to dip into your emergency fund.
Expand your financial knowledge
Knowledge is power, and the more you know about finances, the better equipped you'll be to start making confident financial decisions and prepare for your future. Want to finally figure out the difference between APR and APY? Learn how a credit score is calculated? Visit resources like SELCO's Financial Education Blog, NerdWallet, and Investopedia for free videos and articles on keeping your finances in tip-top shape.
Taking steps to prepare for your future doesn't mean you have to take all the fun out of the present. With your savings tools and new budget in tow, you'll be able to set aside funds for your favorite takeout order or occasional online shopping spree with all of the confidence and none of the guilt