Home prices and interest rates are bound to go down if I wait, right?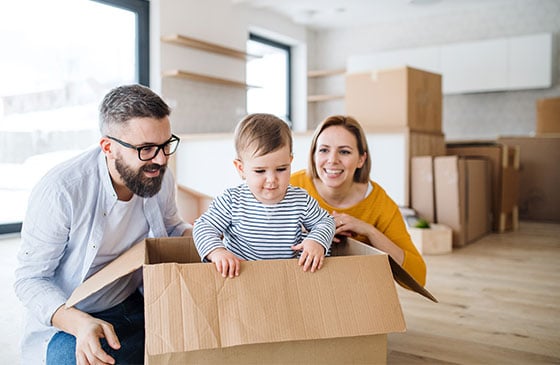 It's the question most first-time buyers are asking right now—and understandably so. Perhaps unsurprisingly, the answer is anything but straightforward. The question can be partially answered by this stunning statistic: It's estimated that Oregon is more than 100,000 housing units short of what is needed. For decades, Oregon has not built enough housing units to keep up with population growth, and it could take decades to catch up. Because of this, home prices aren't likely to plummet anytime soon.
Supply and demand is just one—albeit critical—component of the real estate market. It also helps make one thing abundantly clear: For those looking to purchase a home, waiting to time the market leads to missed opportunities. If you're considering becoming a homeowner, make sure you're asking yourself the right questions to determine if it's the right time for you, then read on to see why now is a better time than you might think to buy a home.
Do I plan to stay in this house for at least 3–5 years?
Would a mortgage payment be affordable? (Contact SELCO to get a payment estimate.)
Can I afford future maintenance?
How much do I have saved to dedicate to buying a home?
"Purchasing real estate has always been considered a solid investment," said Chris Erickson, Mortgage Loan Officer at SELCO. "So the real question is: Is it the right time for you to buy."
1. Mortgage rates are still historically low
No one can say mortgage rates aren't higher than they've been the past few years. But those bargain-basement rates were subsidized by the government to help Americans push through the negative economic effects of the pandemic. The rates you see today in the 5% and 6% range are actually toward the low end of the spectrum. Historically, rates have spent more time above 7% than below 5%; rates have been below 4% only for a short time.
And what if rates do go down? Remember that you can always refinance. This is where your Mortgage Loan Officer at SELCO is your strongest ally. "We watch rates all day, every day," said Tim Booher, Mortgage Loan Officer at SELCO. "We pride ourselves on how vigilant we are about capitalizing on opportunities to help you achieve your long-term financial goals."
2. Timing the market is nearly impossible
Still regretting not investing in Amazon stock in the '90s? Or that you didn't wait another year or two to sell your house? It's impractical to try to predict when markets will be hot or cold.
An added consideration borne out time and again: When rates have gone down, it's been met with increased demand, meaning more buyers are competing for the same homes, causing listing prices to escalate again.
3. Real estate is foundational to net worth
Owning a home is a major component of building financial security. Here's what we mean:
Equity growth. As long as you regularly maintain your home, you can count on your property value to appreciate. Even at normal appreciation levels of 3.5%

–

3.8%, in just five years you could expect a $400,000 home to be worth nearly $480,000—and you'll have shaved five years off your mortgage balance to boot.

Unlike rent, your payments stay the same. By buying a home and locking into a rate now, your monthly principal and interest payment will remain the same over the life of your loan—even as your home's value grows. (Unless you decide to refinance to lower your payments further.)
Tax deductions or savings. Unlike renters, homeowners can be eligible to deduct mortgage interest and other expenses from their taxable income each year. These benefits can add up to

thousands of dollars

when it comes time to file your taxes. It is recommended that you speak with a tax professional to ensure you're cashing in on all the tax deductions available to you.
"You can't pay yourself when renting."
"A huge benefit of homeownership is 'paying yourself,' " said Mike Lavender, SELCO's Mortgage Director. "Each month, you're putting money into what I like to call a 'home savings account.' As your principal balance shrinks, you'll build up some serious equity, which you can use down the road when you sell or decide to do a cash-out refinance. You can't pay yourself when renting."
4. Opportunity cost of waiting
Here's what you stand to lose by staying on the fence.
A chance to build equity. The longer your rent payment goes directly to the property owner, the more you'll miss out on building equity and ultimately owning a home outright. To get an idea of how much equity you'd miss out on, multiply your rent payment by the number of months you've waited to buy a home.
A fixed mortgage payment. The only fluctuation you'll ever see in your payments as a homeowner is when taxes and insurance are adjusted. Otherwise, it's a fixed payment for the life of a loan. Unlike rental prices, which are set by property owners and, despite a miniscule drop recently, have been

increasing in Oregon

over the past few years.
5. A more balanced market
For the first time in several years, the scales have shifted somewhat to give buyers more power. Here are the main reasons the market has teetered back toward the middle:

Sale-to-list ratio decline. A good heat check for the market is the percent sold-to-list-price ratio. The higher the percentage, the more buyers are willing to "bid up" (often out of necessity) their offer price. In April 2022, homes were selling for about 6 percent higher than the listing price. One year later, those figures are nearly even.

Days on market. For the past several years, sellers were juggling multiple offers and, in a blink, houses were off the market. Today, homes are staying on the market longer—an average of 52 days, compared to 23, year over year—which works in the buyer's favor in the form of price drops or other concessions like seller credits that can offset some or all of a buyer's closing costs. Speaking of which …
Seller credits are back. The market was so hot for a few years that no seller or agent would consider picking up a buyer's closing costs. But now, as listings sit on the market longer, there's more incentive for the seller to contribute to those expenses. These costs are typically 2%-5% of the loan amount, so if the seller steps in to help, you could potentially save thousands of dollars before getting the keys to your new home.
As you can see, there are many compelling reasons to invest in buying a home in today's market. There's no way to predict what a fickle market will do next, so don't hesitate if you feel you can check all the boxes to make it happen.
Ready to learn more? SELCO offers periodic workshops for first-time homebuyers, and our mortgage loan officers are already available to answer questions. Give us a call when the time is right for you, and we'll help you get the ball rolling.