Are you craving the open road?
Recreational vehicles, which come in many shapes and sizes, are a popular choice to hit the road. Depending on your tastes and budget, the options range from practical yet stylish to truly luxury-class accommodations.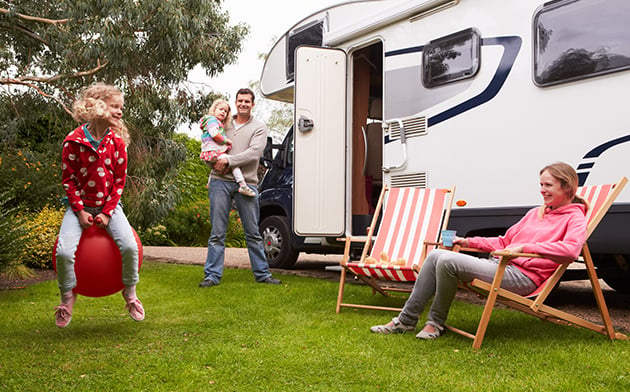 But buying an RV is a big decision—if your largest assets are the house and car, this purchase lands somewhere between. There's a lot to know before you step onto the lot, and the more you learn in advance, the better things will go. Asking yourself the following questions will help point you in the right direction for a future adventure.
How much are you willing to spend?
As with any major purchase, you'll want to be clear on how much you can afford. Given the significant cost of an RV—new motorized models start at about $50,000 and can rocket to well over $1 million—financing periods are typically 10 years or longer. (Not ready for a new model? You can always test the waters by buying used or renting a trailer or small motorhome.) Because RVs depreciate, interest rates are slightly higher than home loan rates. SELCO offers terms of up to 180 months with interest rates ranging from 6.49%–21.14%. The monthly payment isn't the only thing to worry about, either: Be sure to factor in fuel costs (RV tanks can be very large), insurance, registration, and maintenance.
Can you come up with a down payment? While you may be able to finance the whole thing, money down helps protect you against depreciation. And you'll be able to steer clear of your payments if you decide to sell the RV down the road. According to SELCO Loan Center Assistant Manager, Jerry Leach, a down payment is a common requirement. SELCO typically looks for at least 10% down, and depending on your credit score, the commitment can be as high as 25% down. A larger down payment may also get you into a lower interest rate tier.
"This purchase should be viewed as something closer to a house, with long-term use and enjoyment the idea," Leach said. "RVs can depreciate quickly, and on a high balance or 84-plus-month term, this may possibly leave you in a bind in a relatively short period of time."
When is the right time to think about financing?
As soon as you start thinking about buying an RV! How much you can afford should be top of mind. Getting your financing in order will help you figure that out.
While many dealers will try to work out financing in-house, it's not a bad idea to go in with a preapproval. It'll allow you to negotiate from a position of confidence and also prove to the salespeople that you're serious about buying. Getting preapproved will also ensure you don't get hypnotized at the RV shop and make an impulse purchase. SELCO offers a hassle-free preapproval process for recreational vehicle loans, with a decision generally made within 24 hours.
What type of camping or travel are you interested in?
Now that you've determined how much you can spend and hopefully secured financing, it's time to nail down your reasons for owning an RV. Whether it's a home on wheels or a simple trailer to tow, there's a recreational vehicle to fit everyone's style. Leach can't emphasize enough how important it is to have in mind what options they'd like in an RV. He recommends compiling a list of all the options provided by the National Automobile Dealers Association (NADA) before you start shopping.
Let's start with the three classes of RV—Class A, Class B, and Class C. (Note: Price ranges listed below are for new RVs.)
Class A (biggest and most comfortable)
Size: Large bus-style (29-45 feet long).
Amenities: Full-sized couches and TVs, full bathrooms, kitchens, and expandable bedrooms. Many also include storage underneath the vehicle (affectionately known as the "basement") with enough space to stock supplies for a months-long journey.
Price tag: $50,000-$200,000 (some models come in at well over $1 million).
Class B (the economical option)
Size: Full-size van platform (18–24 feet long).
Amenities: Small kitchen, compact bathroom, and enough sleeping space for 2–3.
Price tag: $50,000-$100,000.
Class C (Compromise between A and B)
Size: Cargo van; wheelbase extends to about the length of a small bus (30–33 feet long).
Amenities: More complete than a Class B—large kitchens and queen beds are common in the Class C—but not as robust as Class A. More vehicle than home.
Price tag: $60,000-$200,000.
Towables (including pop-ups, travel trailers, fifth wheels, truck campers, and toy haulers)
Size: Wide range, from 8-foot teardrop trailers to 40-foot fifth wheels.
Amenities: Bath, kitchen, and an array of extras, including slide-outs, bunk beds, and designer finishes.
Price tag: $7,000-$170,000.
Ready to live the RV life? Then do your homework, triple-check your budget, and get to shopping. You'll be better prepared once you've checked off all of the boxes above.