Farmers and ranchers have unique insurance needs. Their situations call for considerably more protection than, say, a home or vehicle.
With that in mind, farm and ranch insurance policies can be tailored to help meet those needs. Think of this type of insurance as a hybrid designed to protect farmers and ranchers personally and commercially.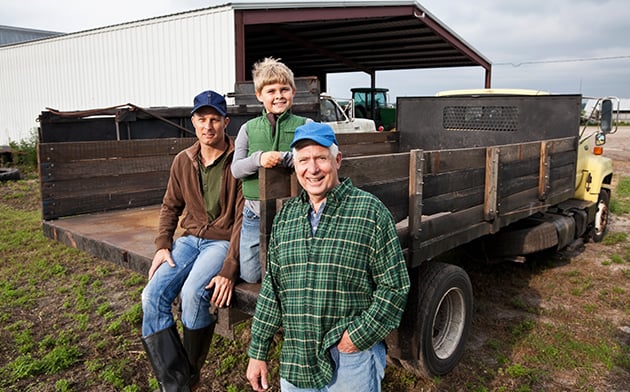 Whether you're running a large or small operation, farm and ranch insurance will cover a wide variety of items on your acreage.
"Farm and ranch coverage is extensive," said Jenna Kipper, Personal and Commercial Lines Specialist at SELCO Insurance Services. "It's valuable to have an agent look over your current coverages and make any recommendations to the policy where there may be gaps in coverage."
Below is a breakdown of what to expect out of farm and ranch insurance.
What's covered?
Agribusiness insurance is highly customizable. There are several policies that cover just about everything on your farm or ranch. Standard coverages include:
Dwellings. These include farm dwellings and structures attached to covered dwellings; and trees, shrubs, plants, and lawns a certain distance from a covered dwelling.
Scheduled farm personal property. This coverage includes machinery and equipment (tractors, combines, hay rakers, and more), irrigation equipment, livestock, and farm products (such as seed, silage, animal feed, fertilizers, and pesticides).
Blanket or unscheduled farm personal property. Under this policy, all your livestock, equipment, structures, etc., are insured in one lump sum amount.
Household personal property. Like homeowner's insurance, this policy covers certain items stored in your main dwelling.
Liability protection. These policies cover bodily injury, medical expenses, and property damage.
Kipper recommends keeping a detailed inventory of items on your farm that you wish to cover. From there, an agent will perform a thorough analysis of your site to help you customize your plan. It's also a good idea to schedule occasional follow-up visits with your agent to determine if you have sufficient coverage.
"Sometimes blanket coverage is adequate, and in other cases we may need to schedule specific items that are more valuable," Kipper said.
What's not covered
You and your agent gloss over all the various coverage plans. Everything on your farm or ranch could conceivably be covered. Right? Actually, there are a few items that you might think would be protected but aren't, including:
Crops. As the lifeblood of many farmers, feed and grain are protected by farm and ranch insurance while they're in storage. That's the good news. Unfortunately, when the crops are in the ground, they aren't covered.

"This is because we can't predict what Mother Nature will do," Kipper said. "Fortunately, once the crops are harvested and out of the ground, they are covered under your farm and ranch policy."

The Federal Crop Insurance Corporation (FCIC) takes care of crop insurance for US farmers and agricultural entities.


Poorly maintained farm machinery. Personal property policies will cover your machinery, but only if they're kept up properly. Technical malfunctions are also excluded.
Fire (with a caveat). Farms are generally insured against fires, but certain factors may trigger an exclusion. If roads leading to farm structures are inadequate, or a water source isn't easily accessible for a fire truck, some insurance carriers could very well exclude fire as a covered peril on your policy.
Just like your hobby farm or large-scale operation, farm and ranch insurance policies come in all shapes and sizes. Let SELCO Insurance Services help you create a customized plan for your needs. Schedule a phone appointment with one of our agents today.