Not thrilled with your aging RV's once-trendy wallpaper border, fussy window valances, or well-worn upholstery? Or perhaps you'd make better use of a mobile office than a bunkroom these days?
Then it might be time for an upgrade—whether that means trading in for a shiny new RV model or going full DIY on the one you have.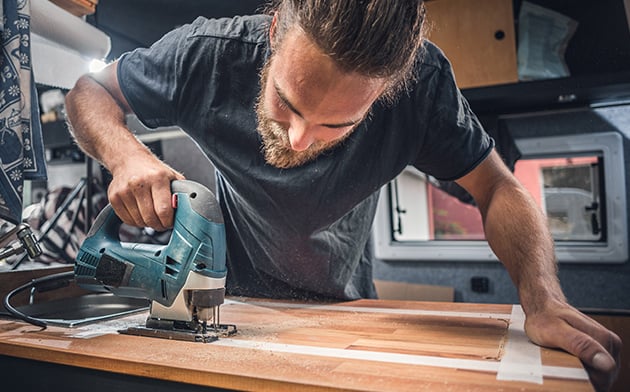 But which route to take? That all depends on your wants, needs and, of course, your budget. What do you use your RV for, and how often do you take it out? How much are you willing to invest—in time, or cash? Do you live for projects, or are you looking for instant gratification?
By the time you finish reading this article, you should be closer to deciding on which side you land in the buying new vs. remodeling debate.
Buying new
Upsides: Trading in your aging RV for something new at a dealership can be pretty convenient for a variety of reasons, including:
Dealerships will have many options on offer. You'll often find everything from the weekend warriors (like pop-up trailers, toy haulers, and truck campers) to houses-on-wheels (such as fifth-wheels and motorhomes).
Most dealerships offer trade-in programs to smooth the transition. This often means unlocking better deals with quality protection plans. And while you're at it, you can check in with SELCO Insurance Services to ensure you'll have adequate coverage.
If you're downsizing, you may be able to get into something brand new with a straight swap. For instance, trading in your used motorhome for a travel trailer could result in a new RV with high-end, modern amenities without breaking the bank.
Downsides: "New" has a nice ring to it, no doubt. But it also comes with its share of factors to weigh:
Unless your RV is worth more than the one you're considering, you'll need to make up the difference. Depending on the level of your upgrade, this can get rather spendy.
Will all the pieces you're used to still fit in a new rig? Will your bed linens match the décor? Is your vehicle powerful enough to pull the new RV? How about the space where you park your RV—will that still work?
If your RV is a little older, you may not receive much in terms of a trade. Some experts say an RV loses about a third of its value in the first four years. On top of that, dealers generally start with a trade-in value of 10-20% below NADA's Low Retail price.
Remodeling
Upsides: If you're willing to put in the time and energy to remodel your RV, a few well-executed updates can go a long way.
A spruce here and there can provide a "like new" look for your RV. Updates such as flooring, cabinets, or window coverings can go a long way toward making your RV feel more like home.
Small spaces mean less cost. For example, new flooring wouldn't require much material, and you may even be able to find some luxury vinyl left over from someone's home project for a fraction of the original price. Add a little fun (and savings) to your project by going on a thrifting and/or upcycling adventure for new-to-you decor.
Think of how proud you would feel after successfully pulling off a DIY project such as this. And how satisfying would it be to take an off-the-shelf project and customize it to fit your style?
Downsides: While we may have the best intentions, there are potential roadblocks to keep in mind when doing things ourselves.
Depending on the scope of your project, a remodel can get pricey. For a total renovation, the cost of supplies alone can be in the thousands of dollars—and that doesn't even factor in your time and labor. Large remodels will take a lot of your time.
By putting your personal touches on the interior, they're truly your own and may not transfer well to the next owner. When it comes time to say goodbye to your RV, the remote office you created may not seem as appealing as, say, more kitchen counter space.
While a well-done renovation may add value, a lesser job will hurt your bottom line. RV renovation requires different materials, considerations, and techniques than home renovation due to major differences in how they're built. RV reno blogs have countless stories of peeling paint, leaking water, and screws penetrating the exterior.
Closer to deciding on which side of the line you fall? Wherever you end up, you'll want to fully research both scenarios to determine if the expense of buying new or the time and effort of remodeling is the best way to go. In either case, SELCO can help you with financing.