Find a vehicle and get preapproved for a SELCO loan in just a few clicks
Buying a vehicle can be an arduous process, especially given today's supply chain issues impacting inventories. One survey even showed that car buying was "more stressful than getting married" for many respondents. And while buyer satisfaction has improved over the years, it can still be quite the undertaking.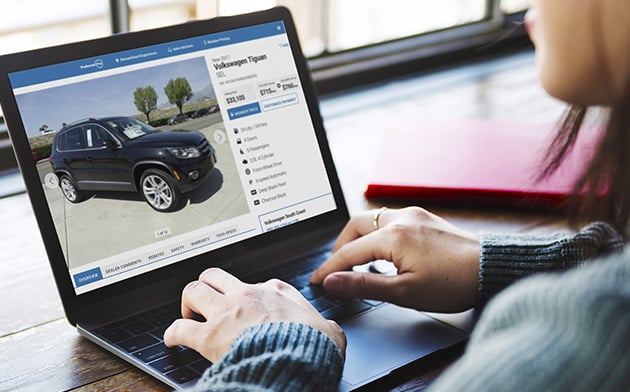 But it doesn't have to be. Are you ready to take the hassle out of car buying?
Welcome to AutoSMART, a vehicle-shopping marketplace where you can research and shop for new and used cars and trucks and apply for loan preapproval with SELCO—from any device, and with just a few clicks, from our website. Wouldn't it be nice to know exactly what you want and how much you're willing to pay, with a loan preapproval in hand, before you head to the dealership?
You can with AutoSMART.
"While there are other online vehicle shopping platforms, our AutoSMART site truly gives you everything you need right in one place," said Michael Sauley, Vice President of Consumer Lending and Senior Consumer Credit Officer at SELCO. "From getting preapproved for your loan to learning your current vehicle's trade-in value to scheduling a test drive, we think SELCO members will appreciate the convenience and value of this new tool."
Here's how AutoSMART works. The slick new tool consolidates millions of vehicles, similar to well-known sites like Autotrader, TrueCar, and cars.com. You'll find unbiased information at AutoSMART to help you shop and buy with confidence, including:
Comprehensive manufacturer data on every make and model.
Pricing analysis showing how each listed vehicle's price compares to the average price for that vehicle across AutoSMART's millions of listings.
Kelley Blue Book vehicle guides with detailed specs, pricing, and estimated trade-in values.
Dealer ratings with reviews from real buyers in your area.
With AutoSMART's streamlined search function, you can zero in on exactly what you want by:
Setting a search radius to find a dealership near you.
Selecting make/model/vehicle type/options.
Creating pricing parameters to fit your budget.
And much more.
And once you've narrowed your search, with one click you can get preapproved for a SELCO loan (see our current rates at selco.org) or contact a local dealer to request a test drive or more information. You can also "build your own" vehicle by selecting the trim, style, color, and options as well as "save" vehicles to check out later.
If you're in the market for a car, try taking AutoSMART for a spin. By getting much of the heavy lifting out of the way beforehand, you'll be driving your new ride off the lot before you know it.