George brings 17 years of experience as a branch manager to her new role
(BEND) — SELCO Community Credit Union recently hired Michelle George to be manager of its East Bend branch. In this role, George will oversee all day-to-day operations at the branch, located at 501 NE Bellevue Dr.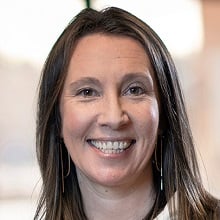 George joined SELCO after serving as branch manager at three financial institutions over the past 17 years, including the last five years at First Interstate Bank's Sisters branch.
"Michelle is a welcome addition to our Central Oregon branch leadership team," said Babs Manion, SELCO's vice president of member experience. "She brings a wealth of experience in banking and a passion for community involvement. We're excited to have her onboard."
George grew up in Troutdale, Oregon, and has lived in Central Oregon since 2007. She graduated from Portland State University in 2001 with a Bachelor of Arts in sociology and a minor in business administration. Over the years, she has been an active volunteer for several organizations, including Habitat for Humanity, Seed to Table, Circle of Friends, Sisters Folk Festival, Furry Friends Foundation/Food Bank, Brightside Animal Center, and Sisters Quilt Show.
George, a proud mother of a 19-year-old daughter and 13-year-old son, enjoys spending her free time working on DIY home projects and exploring the outdoors. In 2023, she hopes to embark on her first overnight backpacking trip with her son.
For more information on SELCO, visit www.selco.org.
About SELCO Community Credit Union:
Founded 87 years ago by a group of fiscally minded teachers, Springfield-based SELCO Community Credit Union today serves more than 150,000 members as one of the largest and longstanding Oregon-based credit unions. A not-for-profit, federally insured, member-driven financial cooperative with more than $2.6 billion in assets, SELCO provides its member-owners with exceptional rates and low fees on a full range of financial products and services, including banking, mortgages, personal and business loans, investments, and insurance. Membership is available to anyone who lives or works in one of the 27 Oregon or eight Washington counties SELCO serves. For more information or to become a member today, stop by one of SELCO's 15 branches, visit selco.org, or call 800-445-4483.
Contacts
Jacob Berns, SELCO, 541-338-3841, jberns@selco.org
Zack Hall, DVA Advertising & PR, 775-338-0745, zack@dvaadv.com