Buying a car is a big step toward independence. It's also a lot of responsibility (and potentially a lot of money). Even if you can't purchase a car just yet, it's never too early to learn the process. Here's a simple guide to the steps involved: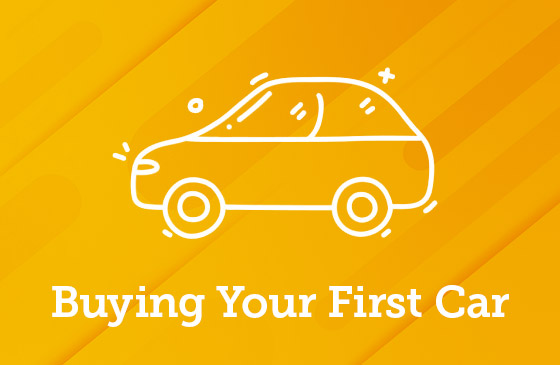 Do Your Research
Begin by researching different car models, features, and prices. Consider factors like fuel efficiency, safety ratings, maintenance costs, and insurance rates.
Additional reading: Kelley Blue Book Comparison Site
Create a Budget
Determine your budget based on your existing savings, what you expect to earn in the future, and any financial support you may receive from a parent or guardian. Don't forget to account for ongoing expenses, such as insurance, gas, upkeep, and registration fees.
Additional reading: "How Much Card Can I Afford?"
Start Saving
If you don't have enough money set aside yet, start saving diligently. You can use SELCO's online savings goal calculator to help do the math and set your timeline. If you use SELCO's digital banking, you can also set specific savings goals to help keep you on track.
Additional reading: "How to Save Money Now (Before You Really Need It)"
Kick the Tires
Before making a purchase, always test drive the car to make sure it meets your expectations. If you're buying a pre-owned vehicle, consider having a trusted mechanic inspect it for hidden issues or maintenance needs.
Additional reading: "How to Test Drive a Used Car"
Secure Financing
If you have a job and plan to take out a loan, it's time to explore financing options. Consider discussing this step with a parent or guardian to get their perspective and how they might be involved. By using SELCO's online auto loan calculator, you can even estimate your monthly payment. And keep an eye out for ways to get a lower loan rate (for example, SELCO offers a rate discount for taking a brief credit quiz).
Additional reading: "How to Finance a Car the Smart Way"
Get Insured and Registered
Once you've purchased your car, you'll need to find insurance coverage. Compare insurance quotes to find the best option for your needs and budget. You'll also need to register the car with your local Department of Motor Vehicles (DMV) or relevant authority to legally drive it on the road.
Buying a car is a significant financial (and time) commitment. Though you may not be able to buy a car immediately, starting to save and learn about the process now will set you up for success when the time is right!