Wilson brings 13 years of banking experience to her new role
(SALEM) — SELCO Community Credit Union recently hired Amber Wilson as manager of its Salem branch. In this role, Wilson will oversee all day-to-day operations at the branch, located at 3833 Commercial St SE in Salem.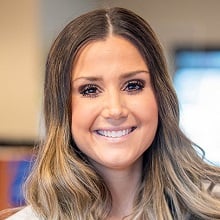 Wilson has held various roles in the banking industry over the past 13 years, from retail banking and mortgage to back-office support and contact centers. Most recently, she served as assistant branch manager at Maps Credit Union in Salem.
"Amber's years of branch operations, lending, and management experience will be of enormous benefit to our Salem team," said Amanda Denbaugh, senior branch manager for SELCO's northern locations. "She has a passion for providing exceptional service, and we're excited to have her help grow our presence in Salem, both with our membership and in the community."
Wilson grew up in Milwaukie, Oregon, and has split time living there and in Salem. Over the years, she has been an active volunteer for several organizations, including the Oregon Humane Society, The Boys & Girls Club of Salem, and Oregon Food Bank. She also volunteers at her daughter's elementary school.
Outside of work, Wilson enjoys fishing, hiking, boating, and camping with her family, and is an avid San Francisco 49ers fan.
For more information on SELCO, visit selco.org.
About SELCO Community Credit Union:
Founded 87 years ago by a group of fiscally minded teachers, Springfield-based SELCO Community Credit Union today serves more than 150,000 members as one of the largest and longstanding Oregon-based credit unions. A not-for-profit, federally insured, member-driven financial cooperative with more than $2.6 billion in assets, SELCO provides its member-owners with exceptional rates and low fees on a full range of financial products and services, including banking, mortgages, personal and business loans, investments, and insurance. Membership is available to anyone who lives or works in one of the 27 Oregon or eight Washington counties SELCO serves. For more information or to become a member today, stop by one of SELCO's 15 branches, visit selco.org, or call 800-445-4483.
Contacts
Jacob Berns, SELCO, 541-338-3841, jberns@selco.org
Zack Hall, DVA Advertising & PR, 775-338-0745, zack@dvaadv.com