Redman continues garnering internal and external recognition with SELCO's Commercial & Business Banking division
(SPRINGFIELD, Ore.) SELCO Community Credit Union has promoted Jessica Redman to team leader for its Commercial & Business Banking division in addition to her current role as vice president, cash management officer. Redman is also being honored with a 20 Under 40 award, handed out each year to 20 rising business stars in the Eugene-Springfield community.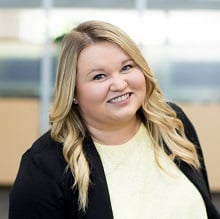 Recipients of the 20 Under 40 award are recognized for their commitment to career excellence and changing the community through innovation, creativity, and hard work, according to award organizers.
In her expanded role at SELCO, Jessica will be responsible for managing the cash management team while spearheading SELCO's efforts to expand its customer base through targeted sales and marketing initiatives.
Redman joined SELCO in 2012 as a branch teller, transitioned to SELCO's Commercial & Business Banking division in 2015, and has steadily progressed since. In 2022, she was named vice president, cash management officer of the division before recently being promoted to team leader, too. Redman will be stationed in the Gateway branch in Springfield, but her responsibilities will include much of the state, from Portland south to the Eugene/Springfield area and east to Central Oregon.
"We're excited for Jessica to take on the role as vice president, cash management officer & team leader," said Mike Donaca, vice president of Commercial & Business Banking. "Her 20 Under 40 Award is just the icing on the cake for an already stellar career serving Oregon businesses. With her impressive experience and skillset, we're confident in her ability to take our cash management program to the next level."
Redman grew up in Bend and settled in Eugene after graduating from Oregon State University in 2012 with a Bachelor of Science in Finance. Redman also serves as a Steering Committee Chair for Leadership Eugene Springfield, Advisory Board Chairman for the Alpha Xi Chapter of Kappa Alpha Theta, and as a member of Springfield Rotary. In her free time, she enjoys playing golf and exploring the Pacific Northwest with her partner, Carlos, and their two corgis.
For more information on SELCO's Commercial & Business Banking division, visit selco.org/BusinessBanking.
About SELCO Community Credit Union:
Founded 87 years ago by a group of fiscally minded teachers, Springfield-based SELCO Community Credit Union today serves more than 150,000 members as one of the largest and longstanding Oregon-based credit unions. A not-for-profit, federally insured, member-driven financial cooperative with more than $2.6 billion in assets, SELCO provides its member-owners with exceptional rates and low fees on a full range of financial products and services, including banking, mortgages, personal and business loans, investments, and insurance. Membership is available to anyone who lives or works in one of the 27 Oregon or eight Washington counties SELCO serves. For more information or to become a member today, stop by one of SELCO's 15 branches, visit selco.org, or call 800-445-4483.
Contacts
Jacob Berns, SELCO, 541-338-3841, jberns@selco.org
Zack Hall, DVA Advertising & PR, 775-338-0745, zack@dvaadv.com