When to expect your tax forms
In addition to printed tax forms, you'll also receive electronic copies. Electronic versions will be uploaded as soon as possible, so please check digital banking to confirm whether they are available (select "Documents & Statements" from the menu). If a tax form needs to be updated, a new form will be mailed to you (in these cases, please use the paper form to prepare your filing).
Please note: You will only receive a 1099-INT form if your total dividends earned for the year was $10.00 or more.
| Mailed/posted to eStatements site by | Form number and description |
| --- | --- |
| 01/31 | 1099-INT – Reports dividends earned in excess of $10.00 (accounts that have earned less than $10.00 are not reported). |
| 01/31 | 1099-R – Reports any money withdrawn from an IRA account (distributions). |
| 01/31 | 1099-SA – Reports any money withdrawn from an HSA account (distributions). |
| 01/31 | 1098 – Reports the interest paid on mortgage and home equity loans (only sent for interest over $600). If you do not receive a 1098 but need a document showing interest paid, your year-end statement will fulfill that purpose. |
| 05/31 | 5498 – Reports any money deposited into an IRA account (contributions). |
| 05/31 | 5498-SA – Reports any money deposited into an HSA account (contributions). |
Setting up a SELCO direct deposit for a refund
To ensure you receive your refund as quickly as possible, verify that you've included SELCO's routing number (323274445) and your full 14-digit account number. You can find your account information in a few places:
In digital banking, click or tap the account you wish to directly deposit funds into, then "Details," and you'll find the routing number and full account number for ACH/direct deposit. Your full account number is listed under the "Account Number for ACH/Direct Deposit" heading: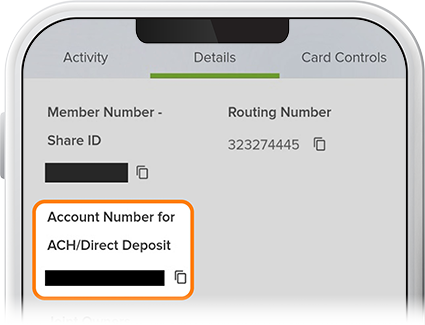 On a check, your account number is the 14-digit number in the lower-middle portion: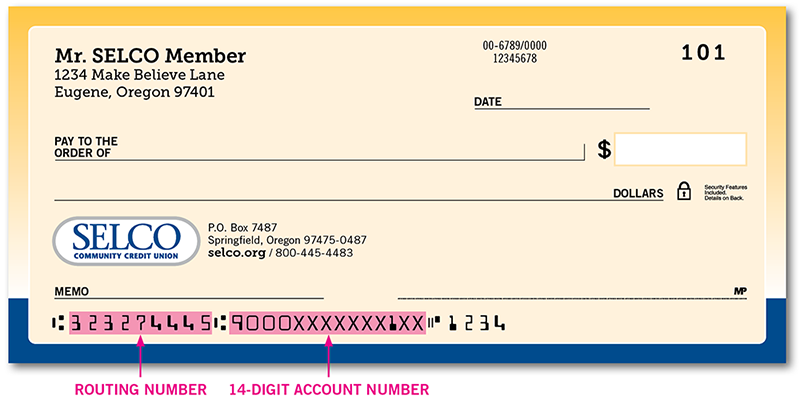 As a reminder, the routing number is the same for every SELCO member, but each account has a unique 14-digit account number.
Additional information on reporting loans
On your year-end statement, you'll find a year-to-date (YTD) amount listed under each loan. To verify the number reported on one of your tax forms, simply add all qualifying loan amounts. If you paid off a loan over the year, you'll find this information on the monthly statement of that particular month. To see the interest paid during the previous year, log in to digital banking, select your loan, then click or tap "Details."
Please note that SELCO Community Credit Union does not provide tax advisory services. Visit irs.gov for assistance with tax-related questions.